Automotive Radiators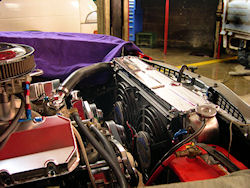 As our name suggests, we are absolute radiator specialists with service that can't be beaten. We can get your car's cooling system running perfectly.
New Radiators - We can supply and fit over 4000 different radiator products. We're independent, so we can get the right radiator for you.
Re-core Radiators - We re-core radiators for all type of vehicles including motor vehicles, trucks, farm machinery and stationery equipment.
Radiator Cleanouts and Repairs - All radiators are pulled apart, thoroughly cleaned and inspected for durability.
Radiator Tank Repair and Replacement - great range of replacement tanks, plastic and brass.
Pressure testing - We make sure that your entire cooling system is ready for the hottest conditions.